Honoka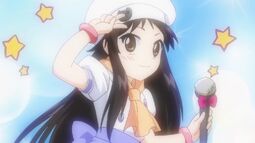 Information
Honoka (ホノカ, Honoka?) is a young girl who was lost in the park and was taken by Otome Tsuduki and cared by Stray Cats, spending all day in the bakery.
Appearance
Edit
Honoka is a short girl with long brown hair and brown eyes. She wears a white sweatshirt, blue skirt and black shorts. She also wears a sandal and a sleeveless white shirt with a stamped musical note.
Personality
Edit
Honoka has a personality similar to Nozomi's. She is quiet and calm, rarely talking so much or surprising herself. She has an interest in animals and does not get along with cats.